2009 Annual Merit Review Proceedings
Principal investigators presented the status and results of their hydrogen, fuel cell, and vehicle technologies projects at the 2009 U.S. Department of Energy (DOE) Hydrogen Program and Vehicle Technologies Program Annual Merit Review and Peer Evaluation Meeting on May 18–22, 2009, in Arlington, Virginia. Links to their presentations and posters are provided below.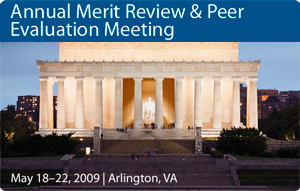 From here, access presentations and posters from the AMR:
Hydrogen Program
Production and Delivery
Storage
Fuel Cells
Manufacturing
Systems Analysis
Vehicle Technologies Program
Presentations and posters from the Vehicle Technologies Program are available on the Vehicle Technologies Program Web site. These presentations and posters are categorized by the subprograms listed below.
Education
Projects to educate a variety of target audiences about hydrogen, fuel cells, and advanced vehicle technologies.
Safety, Codes and Standards
Projects to help ensure and promote safety in the operation, handling, and use of hydrogen and hydrogen systems, and R&D to enable codes and standards to be developed for the safe use of hydrogen in all applications.
Technology Validation
Projects that validate complete systems of integrated hydrogen and fuel cell technologies for transportation, infrastructure and electricity generation applications under real-world operating conditions.
Advanced Combustion
Projects that research new and advanced combustion strategies and operating modes along with emissions reduction technologies.
Advanced Power Electronics
Projects that research and develop electronic motors and machines to work in conjunction with hybrid vehicles technologies.
Energy Storage
Projects that research and develop new and innovative energy storage devices and batteries.
Fuel Technologies
Projects that test and research new fuels and their interaction with vehicle technologies.
High-Temperature Materials Laboratory
Projects that measure the unique capabilities, microstructure, microchemistry, and physical and mechanical properties of materials over a wide range of temperatures.
Light-Weight Materials
Projects that research and develop light-weight materials for automotive applications.
Propulsion Materials
Projects that research and develop innovative materials for specialized applications throughout the powertrain to help improve system efficiency and reduce emissions.
Technology Integration
Projects to educate the engineers of tomorrow.
Vehicles and Systems Simulation
Projects to research vehicle systems for use in advanced vehicle architectures.